Custom Labels / Sticker Printing in Singapore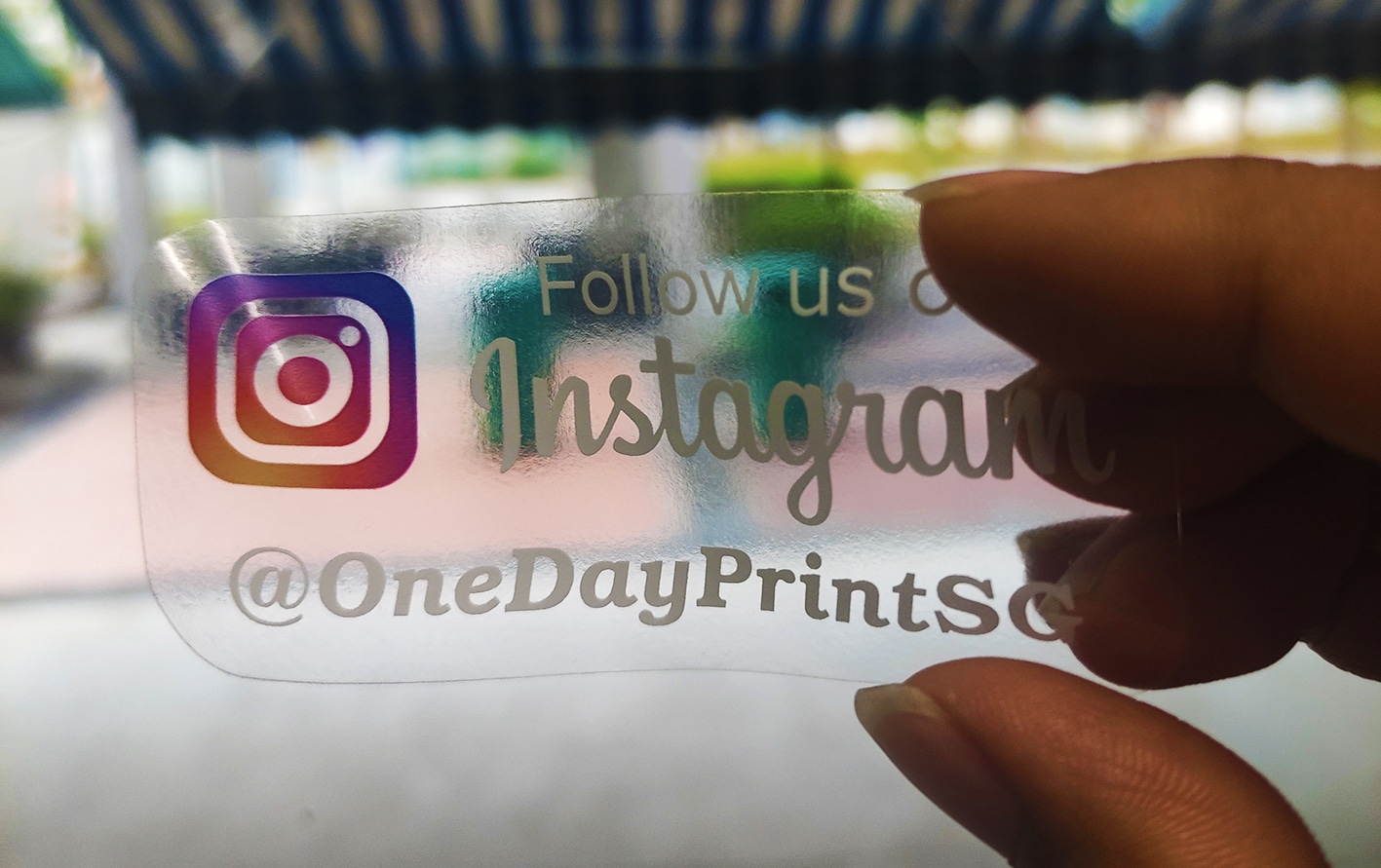 Many of you have asked, and we have heard!
Introduction to  White Ink  Printing
The existence of special white ink toners in digital printing has expanded every creator and business owner's tool bag for expression, as its immediate application has boundless possibilities!
White ink has a history of being a huge challenge to every printing company, as the printers always needed to be thoroughly cleaned before utilising this special ink tank. It is also highly pigmented compared to the coloured inks, which makes it very costly to upkeep in the print process.
Furthermore, this white toner has the capability to enhance existing images by providing a sub-layer underneath other coloured images / artwork printed.
This has enabled many to utilise a wide variety of materials to be printed on without losing any details or colour saturation. For example, papers that are more absorbent, such as wood-free / kraft, can now be used with this white toner to enable print-outs to remain as striking as what is being seen on the screen. Clear or transparent PVC surfaces can also be utilised for subtle, elegant logo designs meant to be stuck on other glass/clear surfaces. Windows, glass doors and any glass bottled products now have an option of playing around with white ink!
For an even more subdued effect, possibly for fine art, publications and high-end editorial prints, printing white-on-white is also a possibility. This includes watermarks and textured paintings which require a very tight range of values to be printed on the surface. White ink toners in laser printing can definitely offer a solution for such instances as well.
Branding
In terms of branding, stickers are a popular go-to application for small to medium-sized businesses just starting out and experimenting with their new products.
A very commonly sought after material would be the transparent stickers! In the past, it was challenging to print coloured artworks on clear stickers, as CMYK inks are translucent. Now with white ink, we not only have the ability to print out opaque white ink onto stickers but also, fully opaque artworks on clear stickers. The possibilities created with this sticker printing technology have enabled us to provide you with a far wider range of options to execute your designs for the perfect sticker labels!
On the right are some examples / inspirations of how to use White Ink clear decal sticker printing to their branding advantage: 
White Sticker labels make a great addition to homemade recipes in glass bottles / jars for homemade recipes (e.e. Honey, sauces, jams, olive oil). They work perfectly for hand-crafted gifts that allow the unique mixes to be shown through the packaging while allowing your branding sticker to be clearly shown on the container. These white-ink clear sticker decals are popular amongst F&B businesses or even for couples interested in packaging their hand-made as sentimental gifts for weddings! 
Perhaps consider variations of your branding with clear decal stickers for packaging. There is no rule that states that you need to stick to just white! Use this technology as a tool to suit whatever purpose you, or what your company requires! 
Of course, this does not merely apply to food! These stickers are particularly common in the packaging of hand-crafted soaps, as well as cosmetics! It is particularly effective in complementing existing goods with textured, dark coloured surfaces.
Consumers always want to know what's inside the box
This is why shops love glass windows and glass doors, mason jars, glass bottles, and many more packaging for their goods. To complement such packaging, clear transparent sticker labels provide your potential consumers with a preview of what they can expect from their purchase. The literal transparency makes the package highly attractive, cold-press juices, coffee, jams and creams are great examples of how such packaging appeals to the taste buds. The viewer not only sees the intensity of the colours available in the food they're about to consume but almost imagines the flavour before actually tasting it. Clear Stickers do just that.
 White Ink  as a Premium Colour
Since white ink labels are very seldom seen on the market, this automatically makes the design of your product stand out from the crowd. Let the white ink create an accent that otherwise would not push your product visually to the front line of the shelf. Let your package bring your product more visibility with the clear, white ink stickers.
Designing Smartly with Colours
Always pay attention to the colour scheme of your product to make the best out of the transparent white ink stickers. Focus on creating contrasting colours in your labels, so that your consumers immediately let their eyes rest on those spots designed by you. Make your designs pop. Let the natural colours and textures of your product shine.
Advantages of  White Ink  Printing
More Vibrant Colours
As CMYK inks are by nature translucent, we are now able to print a white ink toner base below the coloured ink toners in order to make the colours of your printouts appear much more vibrant than regular CMYK printing. In fact, this means that you can print on more absorbent papers / coloured papers (.e.g kraft) without losing the range of colours intended in the digital file.
Full Opacity of Artwork

White Ink toners are speciality inks that provide full opacity in your printing! Apart from achieving brighter, more vibrant printing on our paper products, i.e. paper stickers, you can also achieve similar standards of artwork opacity on our PVC products, i.e clear PVC stickers!
Sleek, Consistent Branding Across Products using Clear PVC Decals

White Ink on clear sticker labels makes a sleek, consistent branding solution across glass / clear bottled products, particularly for bottles of darker colours. This is particularly useful for individuals or businesses retailing beverages that need to be served chilled. These can range from fresh fruit juice, and coffee brews to homemade kombucha concoctions. The PVC sticker is able to withstand the condensation of water droplets when taken out of cold storage, on top of retaining the brand identity across multiple types of coloured beverages.
 White Ink  looks fantastic on Kraft Stickers too!
For a natural, rustic look while maintaining the contrast between the kraft background and your artwork, white ink does wonder in making your company logo stand out! Take advantage of bold white shapes or even choose white graphic textures for your designs.

Play with Minimalism
Let your product do most of the talking. Clear labels work really effectively when it comes to minimalist designs. Many brands focus on simplicity, and it has provided a trend for many companies to follow, with great success. Simple designs are always easier to understand and read while staying modern and clean. Use the minimalist design language which transparent white ink stickers inherently have to attract the audience that is suited to your product.
Usage Suggestions / Design Inspiration Board
For any further questions or enquiries regarding our new  White Ink  sticker printing service, do contact us at order@onedayprint.com.sg.