1. Gold Foil (PVC) Stickers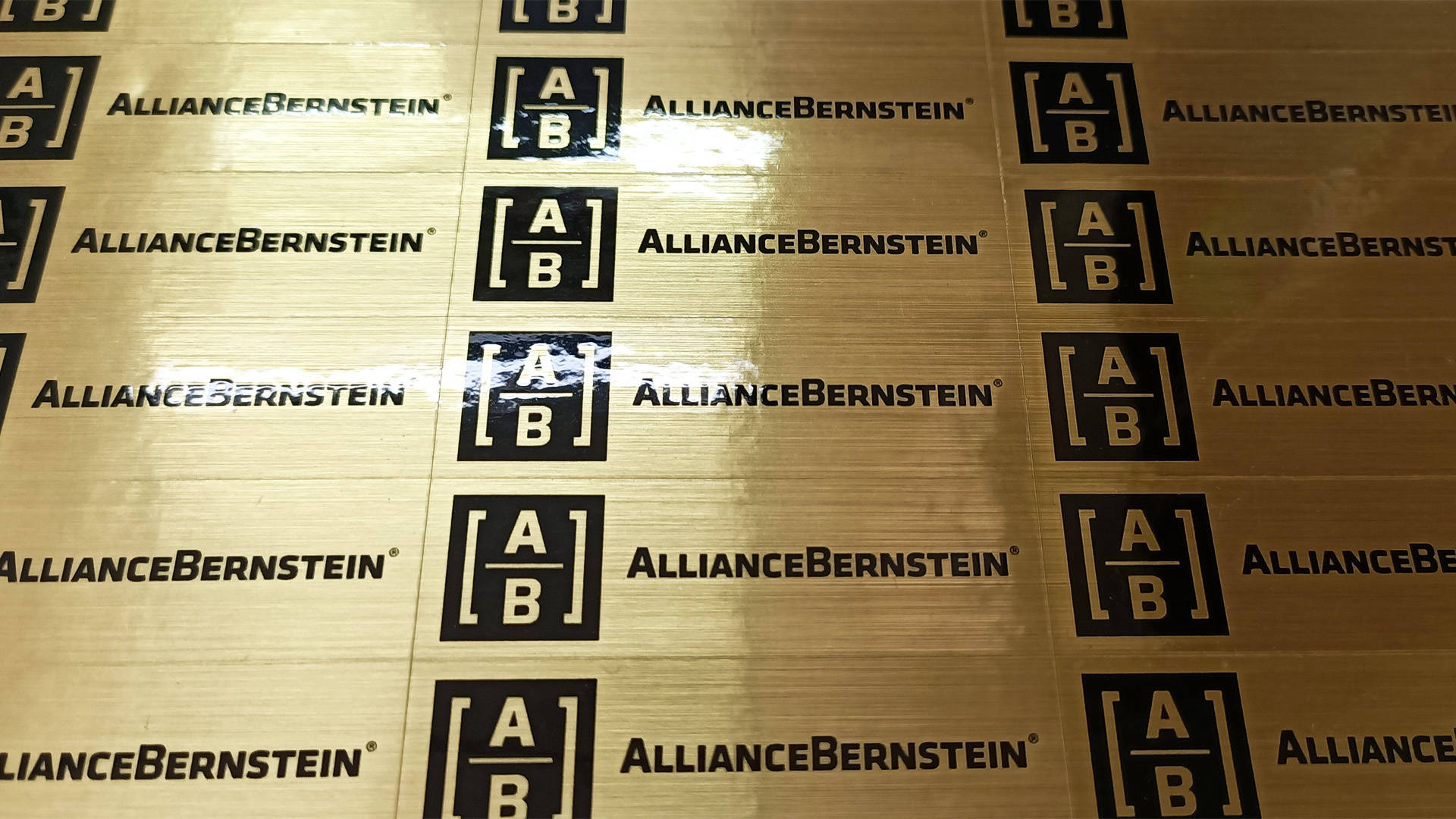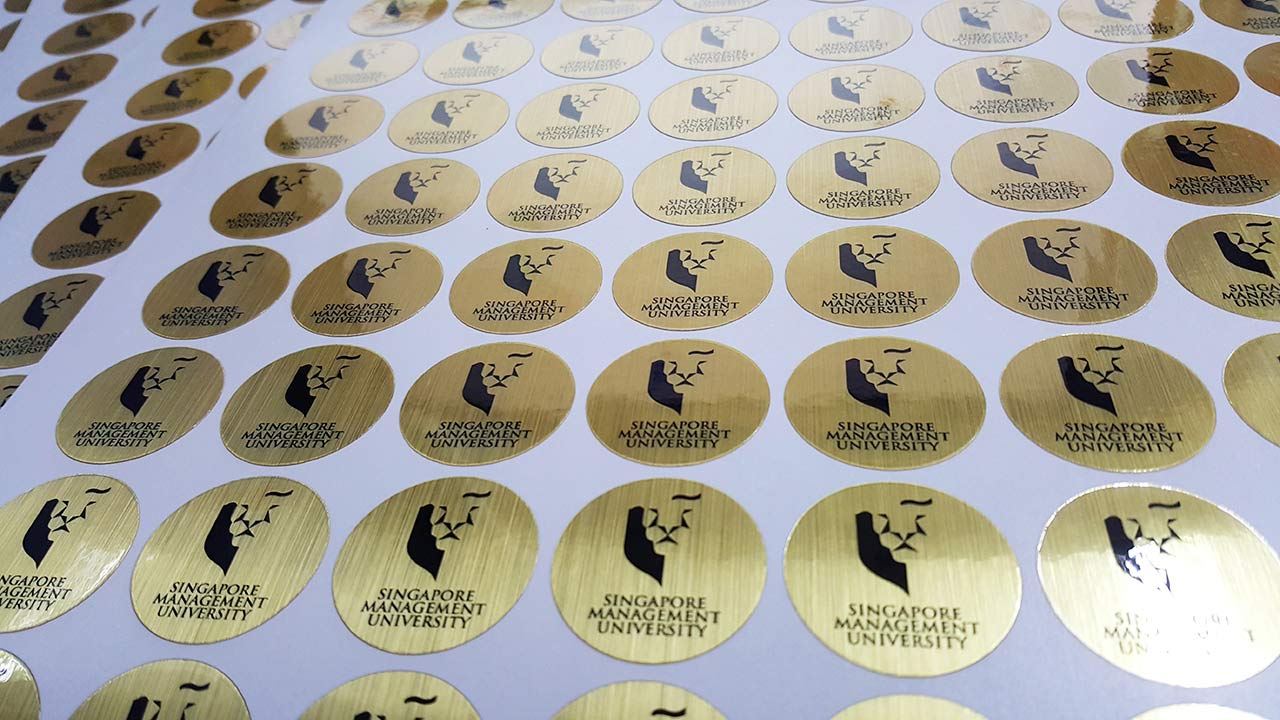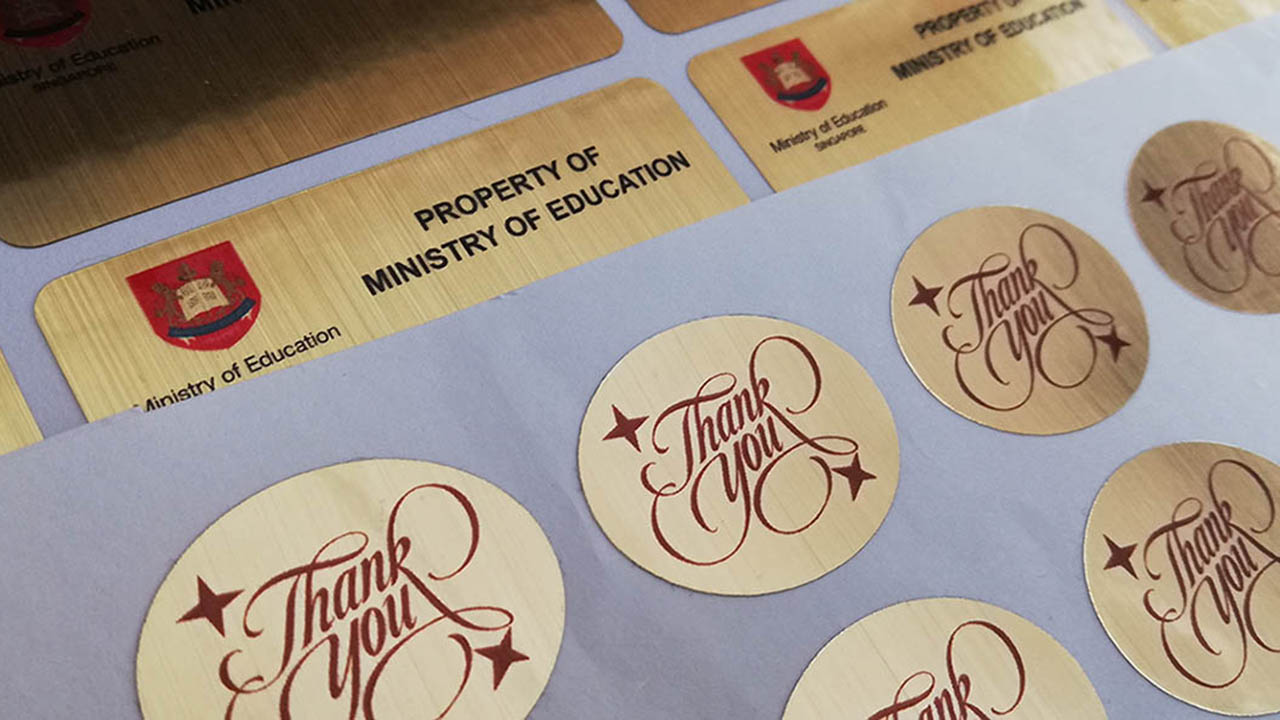 Gold Foil PVC stickers are among our most premium materials offered. They are sure to help make any event or product feel luxurious.
Not only do they look good, they are ultra durable as well with a layer of gloss lamination. Waterproof, tearproof, scratchproof - they are perfect for virtually anything!
Use them for your premium cosmetic range or food products, or perhaps to add a classy touch to presents and invitations. The possibilities are endless!
Before you order, it is important to note that...
Colours will turn out translucent
Dark colours cannot be printed to the edges.
Pale or similar colours (e.g. yellow) will take on the colour of the base.
Properties of Gold Foil PVC Stickers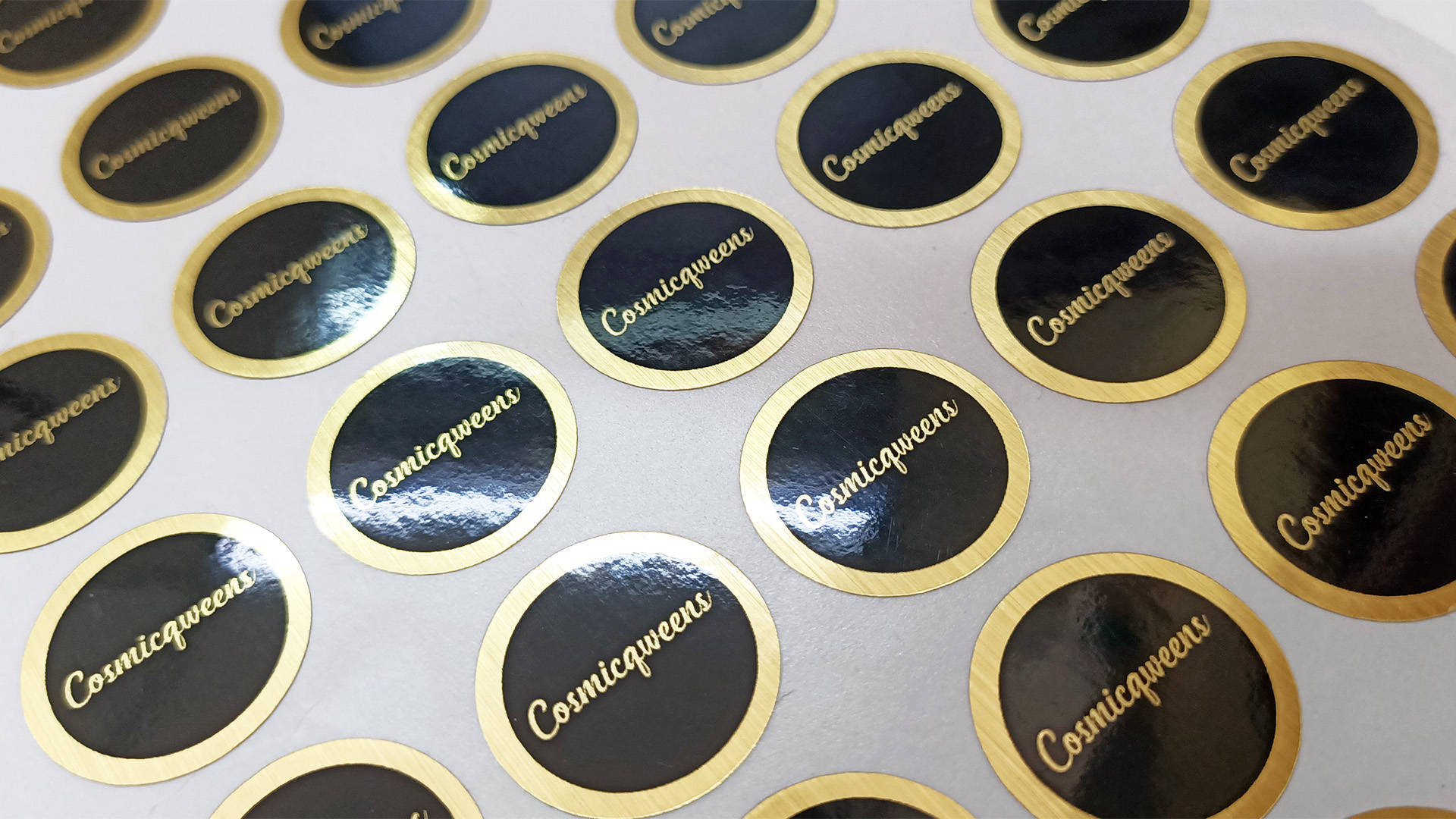 Weatherproof
The lamination on these stickers helps to protect these stickers against the harsh elements, be it sun or rain - you never have to worry when outdoors!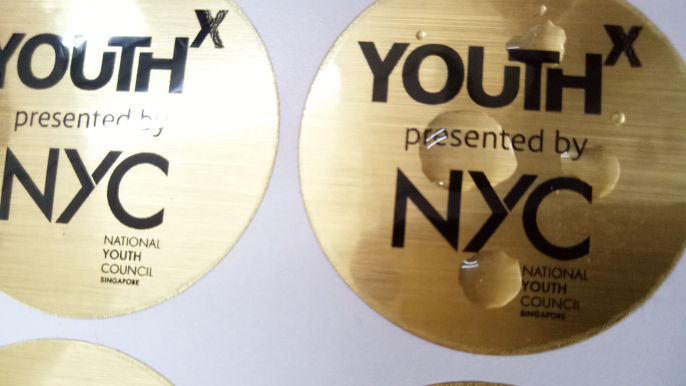 Oil-, waterproof
Water and oils are repelled by the protective laminated surface, ensuring that they do not seep in and damage the actual sticker surface. This goes for essential oils too!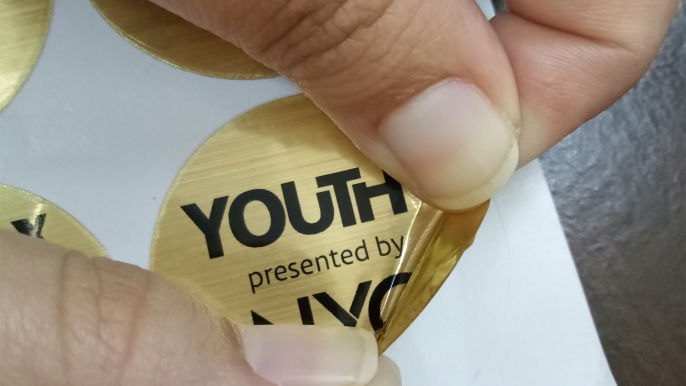 Scratch-resistant, tearproof
Rest assured that frequent handling and scratches won't affect the print. Plus, they can't be torn either - perfect for heavy duty usage!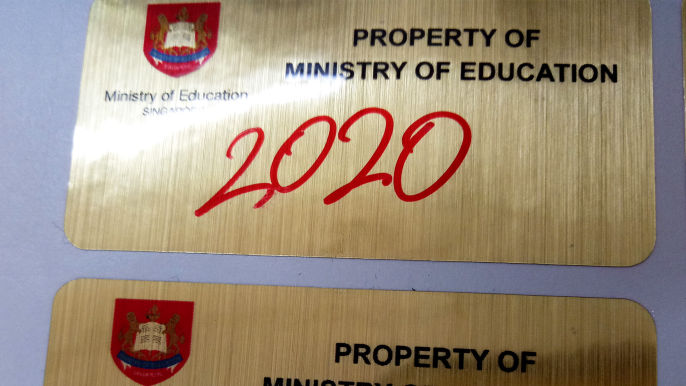 Writable
PVC stickers can be written on easily with oil-based markers, and you can be certain that they won't be easily wiped or rubbed off.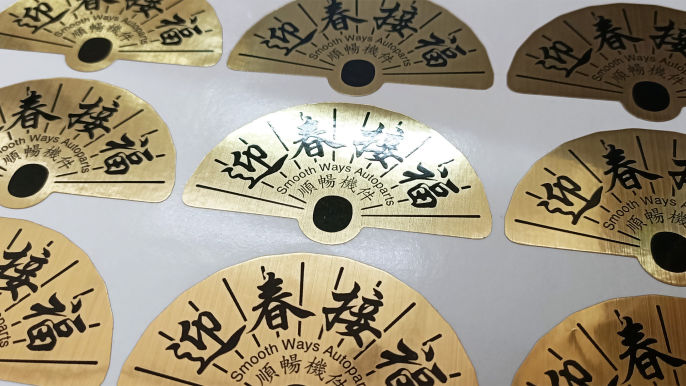 Premium Quality
While these stickers cost more, this also translates into high-quality, gorgeously vibrant, and super durable stickers that are worth every cent!
If you're looking for something less glossy, but you still want gold in your designs, we recommend going for our Faux Gold Stickers!
Faux Gold stickers are paper-based, and have a slightly different colour compared to our Gold Foil PVC Stickers. The paper-based ones are uncoated, a little more matte, with a hue closer to pure gold.
Properties of Faux Gold Stickers
Paper stickers are uncoated, and are rough to the touch.
Inks are scratchproof with fingernails on medium to heavy pressure
Has a pearlescent shimmer under the light.
Is writable with most writing materials; i.e. pencils, colour pencils, ball-point pens, gel pens, oil-based ink pens
All coloured artworks will have a yellowish undertone to the printout; i.e. all blues will appear slightly greenish once printed, as our toners are translucent.
Smudge resistant. All printouts do not smudge when rubbed by your fingertips.
Premium Cosmetics
Use these beautiful gold foil PVC stickers for the deluxe range of your cosmetic products! They will be sure to catch the eye and let your customers know that your products are of the highest quality.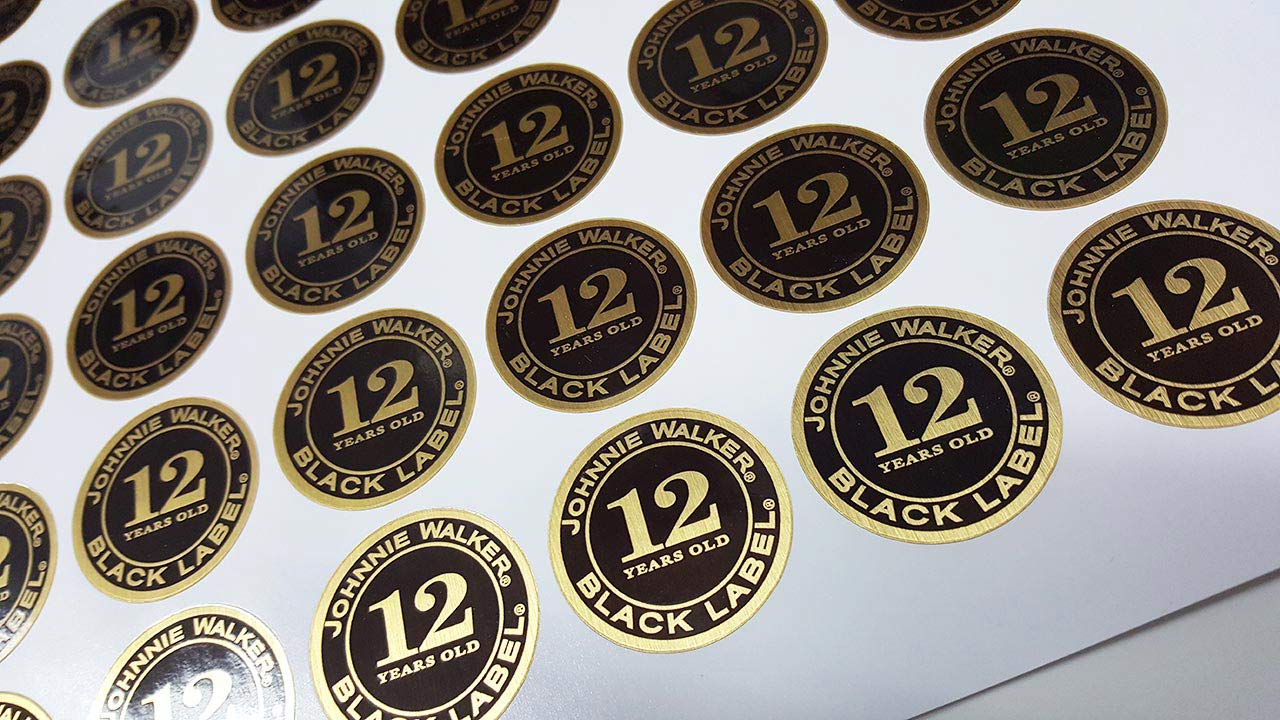 Luxury F&B Packaging
Luxury foods deserve luxury packaging - and what better than gold foil stickers? Their deep, dazzling gold shade will be sure to add another touch of class to your food products!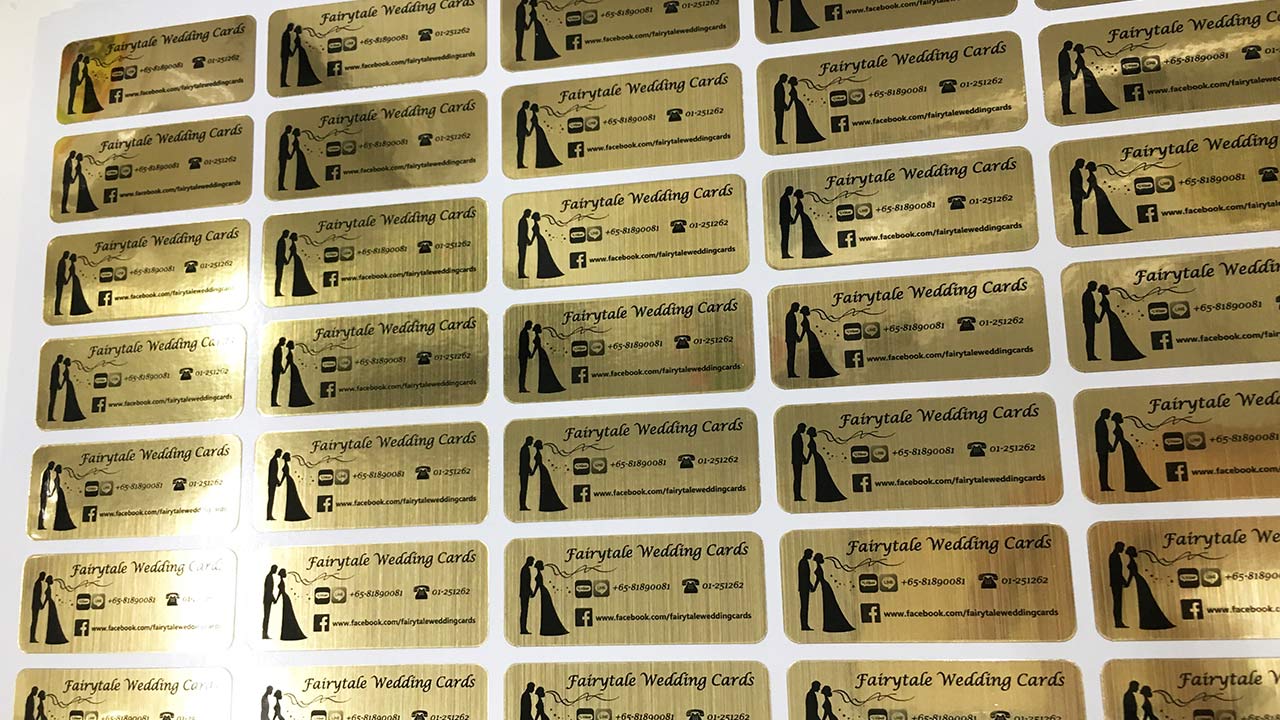 Wedding Invitations
Your wedding is your big day - so go all out and make it extra special! Invites sent out with beautiful gold foil stickers look elegant and beautiful, and envelopes are, of course, effectively sealed.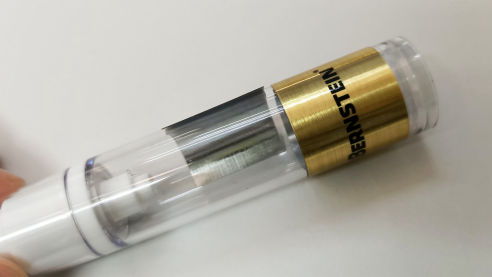 Due to its thickness, it is recommended for larger objects. Otherwise, you can paste the ends together to secure it better!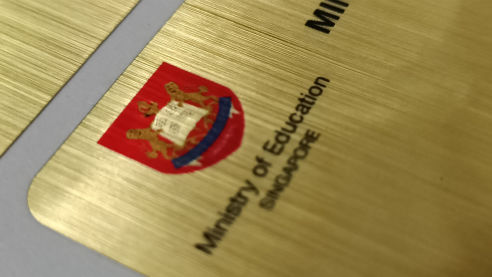 Do note that currently are not able to print white on this material. Dark colours still show well, but lighter shades or similar colours will take on the colour of the material.
Due to printing limitations, we cannot print dark colours all the way to the edges - the laminated edges will split.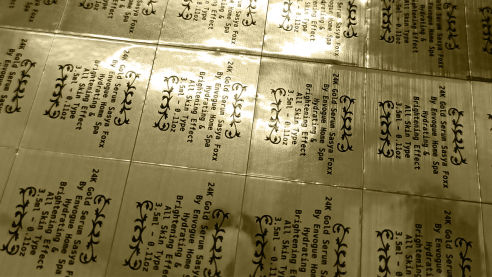 This material is only foil and does not contain any pure gold. Thus, faint lines (the grain of the material) can be seen across the surface.