Please read the specification below carefully to avoid unnecessary time delay in unsuitable manuscript. First look at the basic e-Design Specifications, followed by the specifications listed below
A6 design drafts please use 14.85cm X 10.5cm

If you chose to print foldable cards (i.e. A5 folded into A6)  please send a 4-page A6 manuscript to us, and include another picture/document that details the document name and the layout style, like the picture below.

If you're still confused, fold a piece of paper into two, and write the document name on each page, then open it up and take the photo of it on both sides and send it to us.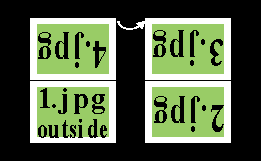 3. Please leave a 5mm bleed for the design drafts.
4.  All pictures need to be above 300dpi, and small text would need to be 400dpi minimum.