Custom Labels / Sticker Printing in Singapore
Kraft Art Paper Sticker Material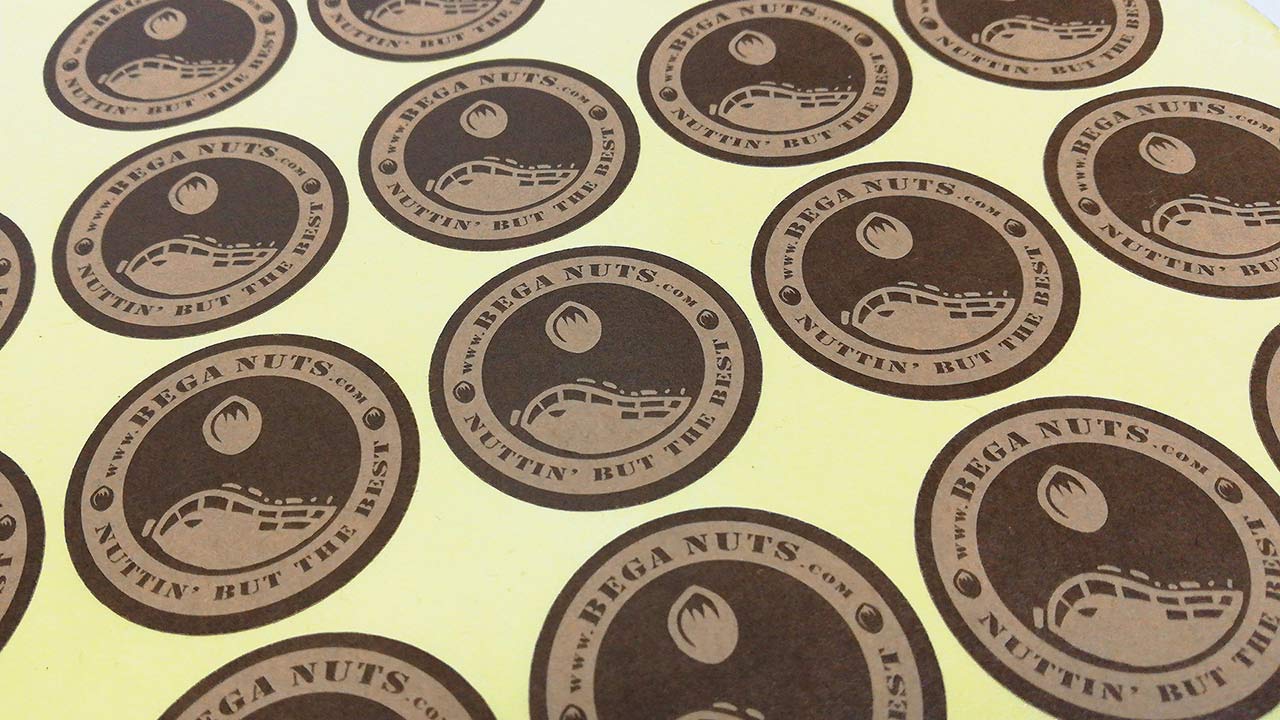 Introduction to Kraft Paper Stickers
Kraft paper stickers are one of our special materials, with a beautiful matte base. They look natural and are particularly suitable for vegetarian / vegan / organic food products, or for any project that requires a natural, rustic look.
While we can print colours on them, darker shades, such as brown, black and red show up best on these stickers.
These stickers are not waterproof but are certainly able to withstand mild condensation. Plus, with our laser printing technology, rest assured that the print will not smudge or run even if wet!
Before you order...
Please take note that the price guide for our kraft stickers does not include the cost of white ink.
Light printed colours will also be slightly translucent when printed - white or pale areas (eg cream, grey) will take on the colour of the brown kraft base below.
Properties of Kraft Paper Stickers
Paper-based
Being made from paper, Kraft stickers are a more environmentally friendly choice and cause less harm to the environment! It is also a beautiful-looking material.
Smudge-resistant
Capable of withstanding minor condensation, the prints will never smudge! In fact, they won't run even if totally soaked!
Writable
The surface is easily written on with ballpoint pens and fine-tipped markers - just give the ink a couple of seconds to dry!
Natural Colour
With their natural colour, Kraft stickers are perfect for adding a rustic look to your products and belongings.
Popular Choice
The slightly rough texture of Kraft stickers makes them a popular choice for those looking to stand out.
Organic Food
Organic and vegetarian food products will be served well by kraft stickers, with their natural, handmade look. Being made of paper rather than plastic, they are the most environmentally friendly of our products and are a clear choice towards being environmentally sustainable without sacrificing quality!
Wedding Gifts
Give your wedding favours and invites a sweet, simple charm with these beautiful, natural kraft stickers. Envelopes will certainly look unique with a printed sticker to seal them closed, while on gifts they certainly stand out more than other types of labels - perfect for the most special day of your life! Perhaps with an outdoors wedding or a simple, intimate family affair, kraft stickers will be best for you!
Vintage Designs
Vintage designs for kraft stickers give off an aged, used look, particularly suitable for wine bottles, and homemade brews of kombucha.
Baked Goods
Your all-natural, homemade baked goods will be served well with these beautiful natural stickers as well. Your customers will be sure to remember such lovely and unique products, and come back for more!  They also make for unique, classy seals and labels, sure to catch the eye and assure customers of the quality of your products.
Candle /Soap / Skincare Products
Branding of skincare products made of all-natural materials can be enhanced by the brown kraft texture.
Essential Oil Bottles
Kraft stickers are an appropriate branding choice for bottled products containing only natural ingredients.