Custom Labels / Sticker Printing in Singapore

Holographic Iridescent Sticker Materials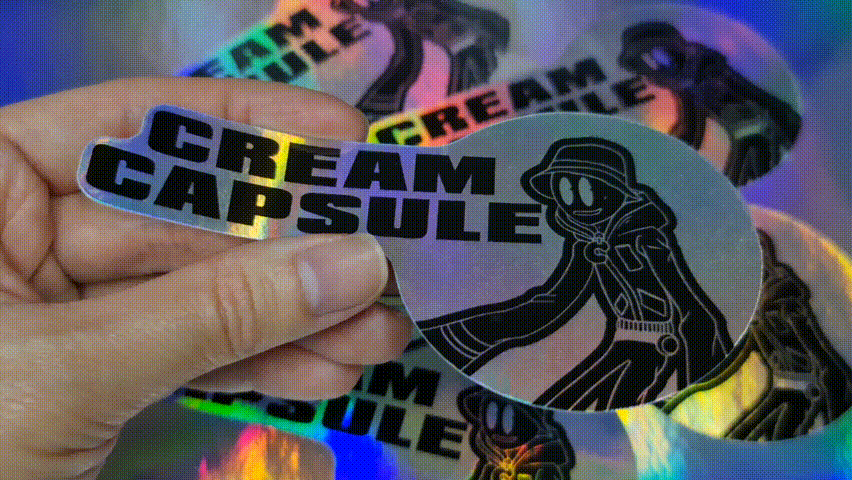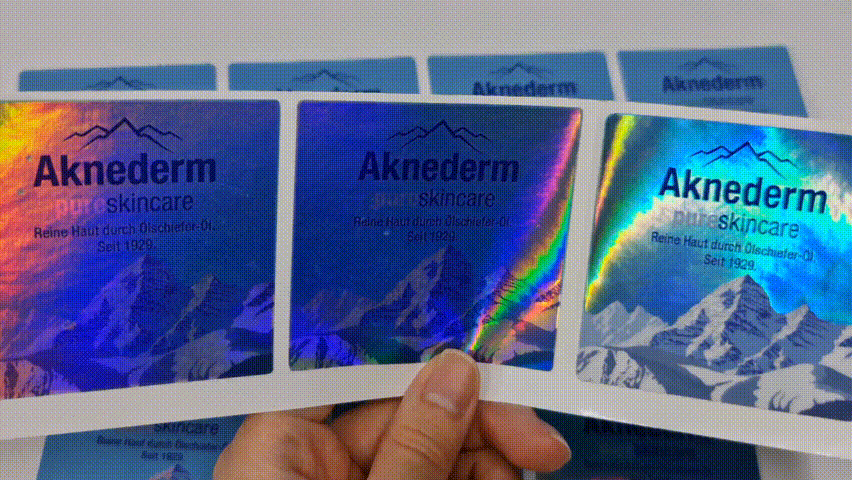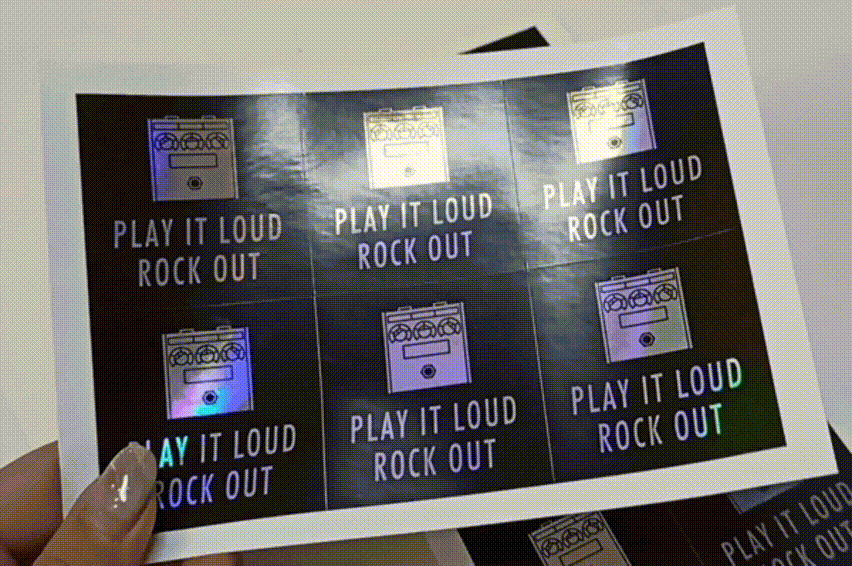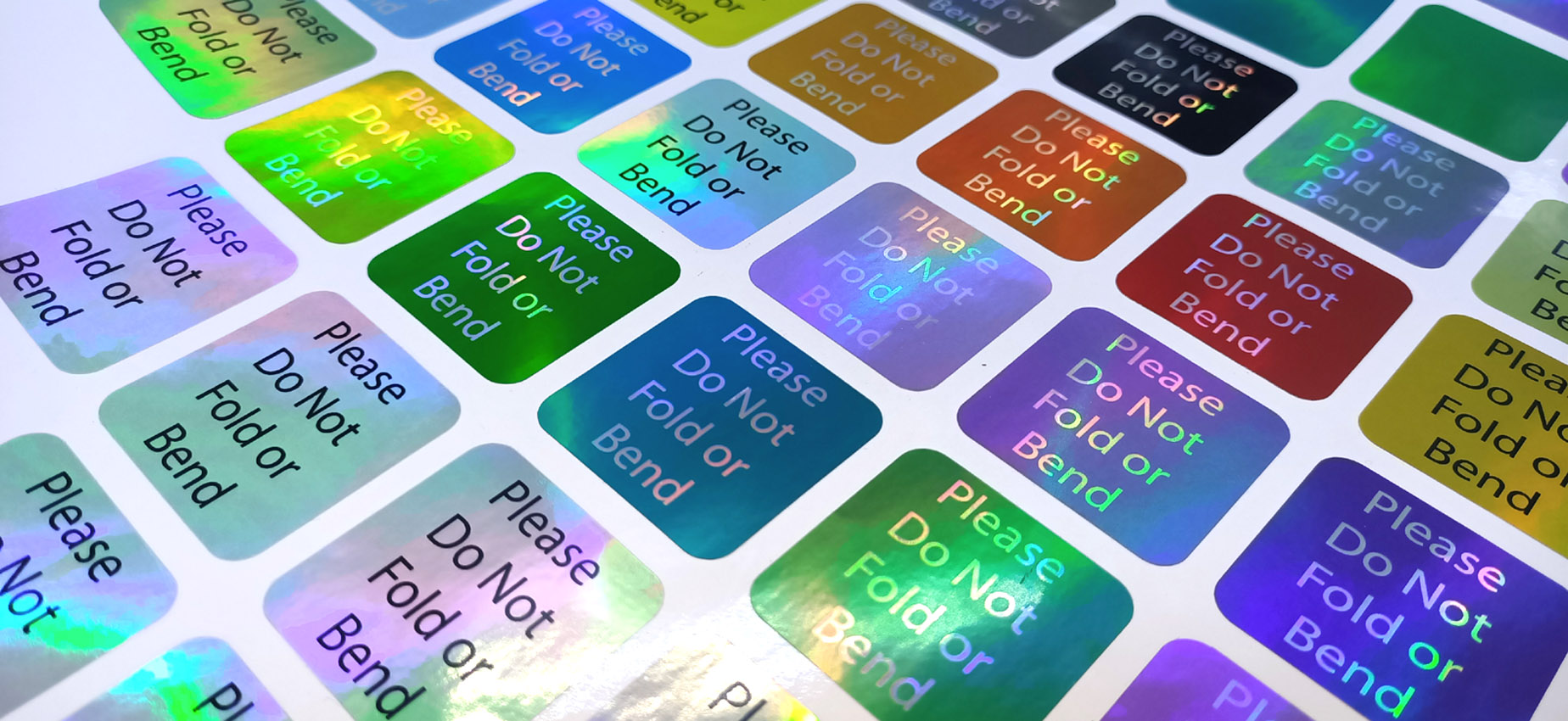 An endless shimmer in the light.
Introduction to Holographic Sticker Materials
Holographic stickers are plastic-based, with a metallic, iridescent surface. The rainbow effect changes accordingly when the lighting strikes its surface, as well as the perspective of how you view the stickers.
Onedayprint offers two variants of Holographic stickers; Holographic Synthetic and Holographic PVC.
Holographic Synthetic stickers are standard grade stickers manufactured using oil-based synthetic resins (plastic) and are made from tear-resistant and waterproof plastic. These stickers are our thinnest and clingiest, making them suitable for virtually anything. Their flexibility allows them to adhere to even small curved surfaces without coming loose. At the same time, synthetic stickers possess characteristics similar to that of paper, specifically their appearance and printing capabilities. This sticker does not come with lamination.
Holographic PVC stickers are premium-grade stickers. Made from Holographic Synthetic stickers with a layer of gloss PVC lamination. PVC is our toughest material yet - waterproof, weatherproof, oil-resistant, chemical-resistant, scratch-resistant... the perfect choice If you would like your stickers to last longer!
Properties of

Holographic Synthetic

Stickers
Our Holographic Synthetic material has the basic properties described in the following:
Iridescent Colour
The unprinted areas on the Holographic stickers have a beautiful rainbow sheen that changes under the light, which gives your product a premium look and stands out from the crowd.
Writable
Unprinted areas on Synthetic stickers have a smooth matte surface, which is highly suitable for writing with ballpoint pens* and markers - just give the ink a few seconds to dry!
*Pen will not write well on PVC surface.
Waterproof
Being plastic, Synthetic stickers are also completely waterproof - so yes, they can withstand condensation, being splashed, or even completely soaked! Go ahead and try - we guarantee that your stickers will stay safe!
Additional Properties for

Holographic PVC

Stickers
On top of the properties of our Holographic Synthetic material, our Holographic PVC material also have the following properties:
Weatherproof
The lamination on these stickers helps to protect these stickers against the harsh elements, be it sun or rain - you never have to worry when outdoors!
Scratch-resistant / Tear-resistant
Rest assured that frequent handling and scratches won't affect the print. Plus, they can't be torn easily either - perfect for heavy-duty usage!
Oil & Chemical-resistant
Oils are repelled by the protective laminated surface, ensuring that they do not seep in and damage the sticker surface. This goes for essential oils too. Lamination also ensures that these stickers remain chemical-resistant. Anything that might damage the print is repelled, ensuring their safety.
Premium Quality
PVC stickers are more expensive than our standard stickers, but this extra cost also translates into high-quality stickers that are guaranteed to last.
White Ink on Holographic Stickers
If you would like your coloured designs to appear more vibrant and true to what appears on the computer screen, you may opt to have a white ink overprint, so that the layer of white ink sits below your designs. This ensures that the colours of your printed designs don't blend into the myriad of colours of the iridescent sticker paper.
The example below is a variation of how you can apply the white underlay layer (depicted in black) on the print-ready file. For this particular design, we chose to put a white ink underprint for most of the sky and the text. except for the word "pure" and the parts of the icebergs that reflect the sunlight in the image. The intention is to mimicks the reflection of snow, by only highlighting the few segments that we want to illuminate. (Please read here for more details):
EZ-Link Cards

Since Holographic stickers are PVC-based, this makes them the most ideal for EZ-Link card stickers. Gloss lamination ensures that the printing isn't affected, despite friction from frequently handling the card. The strong adhesive also makes sure that your sticker stays securely on the card, no matter how much you use it!
Cosmetic & Bottled Labels
Especially for iridescent makeup palettes and swatches, our holographic stickers would help to make your brand packaging stand out, on top of being waterproof and really durable. Moreover these plastic-based stickers are able to be applied on curved surfaces without losing adhesion, making it perfect for such products.
Laptop / Phone Accessories
Since these stickers are also waterproof, they make perfect phone / laptop accessories that can be customised to your fancies.  Being carried and used every day of our lives, many love to decorate and add a personal touch to these items. Rest assured that not only do your stickers look gorgeous, but will also last for a long time!
Below are some photos of our sticker printing. Here's an opportunity to showcase your products or unleash your creativity on our web pages! If you have printed stickers with us and wish to share photos of your products with our stickers on them, or photos of how you have used our stickers for your creative projects, please email us your original photos! Please also let us know your Social Media names (if any) so that we can credit you for the photos! 😇 We will be using the photos for the promotional purpose of our printing service (thank you so much!) Help us fill up this photo gallery! You can also show us how you are using our stickers on your products or creative projects by tagging us in your Facebook and Instagram photos! Follow us on Instagram, or Like us on Facebook!
Feeling excited with our Holographic Iridescent Sticker Materials Printing? Drop us an email for a consultation with our printing experts.