Stickers for National Day Celebration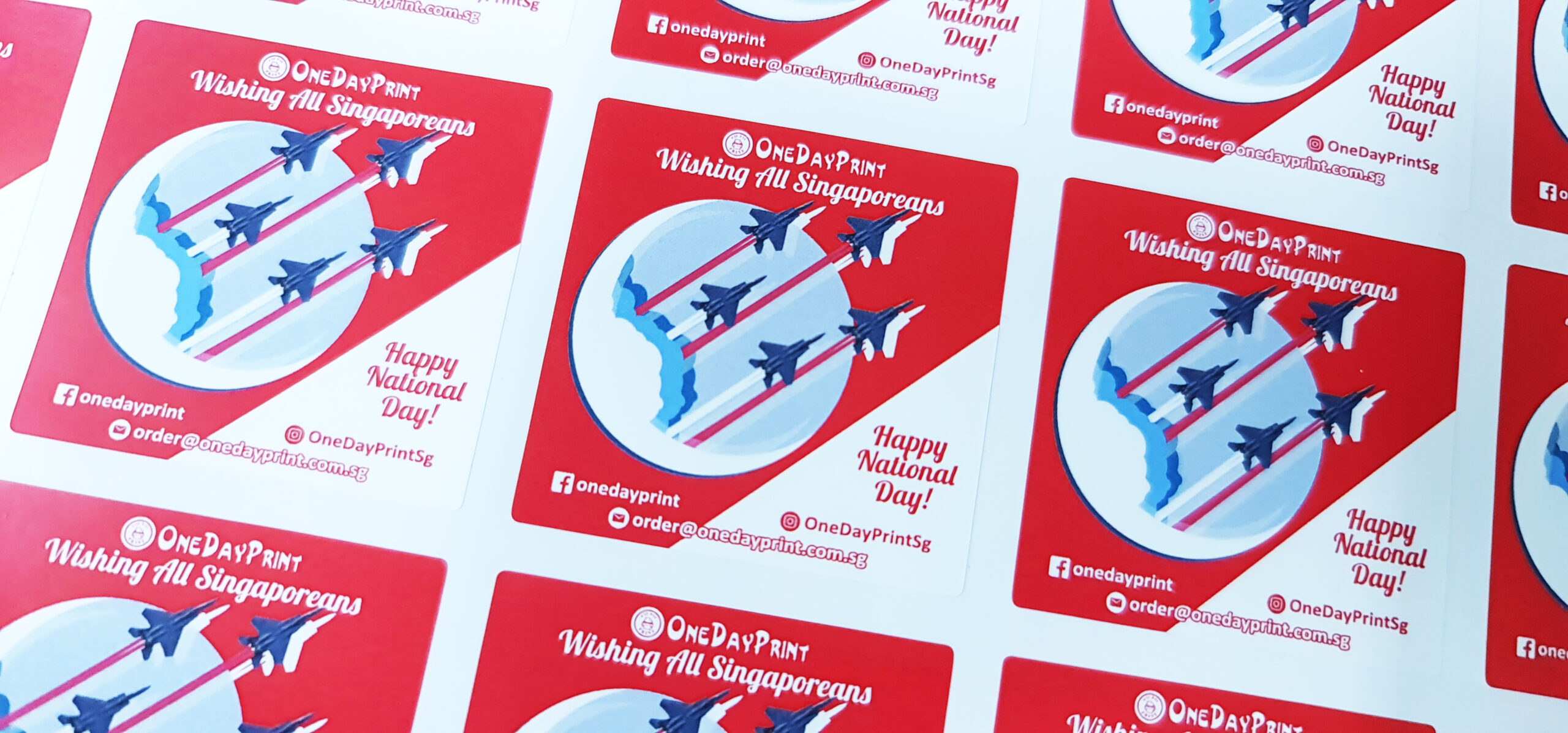 Insight into Singapore's National Day Celebrations.
Singapore celebrates its National Day annually on 9 August. Rehearsals for the National Day Parade start months leading up to the actual event. Primary 5 students from Primary Schools all around Singapore are given the opportunity to take part as audiences in the rehearsals as part of their National Education (NE).
The National Day Parade (NDP) consists of a march past by various contingents, this includes the Guard-of-Honour consisting of personnel from the Singapore Armed Forces (SAF) and the Singapore Police Force (SPF), the Regimental Colour Party, and the State Colours. This is accompanied by the supporting contingents of the military and civil services from the SAF, SPF, and Singapore Civil Defense Force (SCDF), and from various Social, Economic, and Youth Groups. The Military Tattoo which consists of Precision Drill Squad, SAF and SPF Combined Band, and Combined School Bands also lift up the spirit of the Parade with their Band Performance and Precision Drills.
The Parade also consists of free fall jumps performed by the Red Lions parachutists, the Republic of Singapore Air Force (RSAF) also perform flypasts of their fighter jets and the State Flag flypast for the singing of the National Anthem, and if the venue allows it, there will also be a Mobile Column showcasing the various vehicles and equipment from the SAF and Home Team.
As the Parade proceeds into the evening, participants can look forward to the various light shows and performances and the much-awaited fireworks!
Stickers for Singapore's National Day Celebrations.
Maybe you're from a School or Government Organisation looking to print some Stickers or Cards for the National Day celebration, or you're a local business looking to label your products with National Day greetings or you are looking to print special discounts Vouchers & Cards. We are here to help! Just simply send us your artwork and we can get them printed from as fast as 15mins up to 24hrs!
Let us print your National Day stickers for you!
We are a sticker printing shop in Singapore! Wholly owned and managed by Singaporeans with a team of Singaporeans local staff! Choose from a range of materials from the basic Mirrorkote and Synthetic Material to the artistic Art Paper materials like Kraft, Gold Speckle, Textured, and Washi, to the dazzling Gold / Silver Foil, and Holographic sticker materials!
With this wide range to pick from, there's definitely a material that suits your needs for sticker printing in Singapore! Simply drop us an email and our expert print specialists will assist you with your artwork and order! Need to do sticker printing in Singapore? Trust us to deliver excellent quality prints with a fast turn-around time to meet your printing needs!
OneDayPrint wishes everyone a Happy National Day! 🇸🇬 🎆 🎉 🎊 🎂 5️⃣ 7️⃣
Need to get your National Day Stickers printed?
Like our blog posts? Follow us on Instagram, or Like us on Facebook to be alerted of new design ideas or ideas for the next special day! With our customised printing, you can make every occasion a special and memorable one for your loved ones and network of friends or colleagues! Wanna feedback about our blog? Have a question regarding our posts? Wanna share photos of printed materials that you have printed with us? (we really appreciate it!) Please do not hesitate to reach out to us at onedayprint@gmail.com! We will thank you in kind! 😃