Digital Printing Service in Singapore
Artwork Specifications (General)
Photocopy and Document Printing Services are

unavailable
Due to our production configurations and materials used, we are only able to provide Printing Services for Stickers, Name Cards, A3 / A4 Posters, A5 Cards, A6 Cards, Brochures, Flyers, and Other Printed Matters listed here. Photocopy and Document Printing Services are unavailable as we are not configured to provide such services. We are sorry for the inconvenience caused.

Scanning of Hard Copy Artwork
As we no longer accept walk-ins, we highly recommend you use a Scanner app to scan your hard copy Artwork. Be sure to avoid any glare or reflection when scanning with the app on your mobile devices.

We accept only the following file formats
PDF
AI (Adobe Illustrator)
PSD (Adobe Photoshop)
JPG / JPEG
Please convert your artwork to PDF format if your artwork is an MS Office file (DOC, PPT, XLS, Publisher).
(However, if you are unsure or need help, send us what you have and we'll take a look and advise you on the next step.) 🙂


Image Resolution
Minimum 300 DPI, preferably 400 DPI if the design contains any small text.
Vector if the file is PDF or AI

Image Quality

Maximum, please do not compress your artwork


Accepted Fonts
Any font is fine so long as your file format is either PSD, PDF, AI or JPG

Artwork Size and Bleed Requirement
Important! Please read carefully!
Some designers tend to omit the draft dimensions or fail to recognise the importance of error accomodation in Artwork Design. This can potentially cause a beautiful design to be printed as an end product with serious flaws.

Every different printed content have different requirements regarding dimension and bleed. However, their aim is the same, to overcome shortcomings. Please first take your time to understand the 2 biggest shortcomings in the digital printing process.

Left: Original printout, Center: Cutting deviates to left,
Right: Cutting deviates downwards
If you design a border or line on the side,
an error of 1mm will be very obvious.
After printing perfectly, error occured whilst cutting. Even though the computer accommodated for 0.01mm bleed, when cutting there might be a tendency for the rotary cutting blade and paper to move - which will result in a 1-2mm error, this has already been minimized by other precautions.
Digital printing cannot support full-page printing, and will always have a 5mm bleed on printouts. However, if we cut away the 5mm white spaces, it is equal to full-page printing, but on smaller paper.
To overcome the 2 shortcomings mentioned above,
Method 1 :
Treat the Artwork Design like the actual printout, thus not wanting full-page printing, and just leave a 5mm bleed. When the cutting error of 1-2mm occurs, it does not affect the Artwork at all.

Method 2 :
Have the Artwork designed a little larger than actual size, to design "full-page" printing. The background will have a bleed of 2-3mm. The contents and images in the Artwork cannot be close to the border, best 5mm away from the edge of the actual printout. This will result in a beautiful printout that accommodates for cutting error.
So what exactly is "Bleed" ?
To accommodate human error in cutting / other forces in play when cutting, people usually use this method: Have a larger background, and when designing, have an extra 3mm bleed, and contents within this 3mm bleed around the printout are negligible, in other words, it does not matter if the content in the 3mm bleed is kept or cut off.
If you design the Artwork with a 3mm outer bleed & an editing area of 5mm safe zone (inner bleed), the final product will match your requirement.
When there is no 3mm outer bleed when designing, no safe zone / inner bleed within the editing area, either one side will get chopped off, and the other side will get a white border.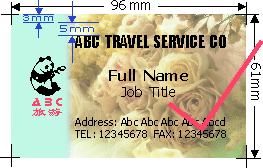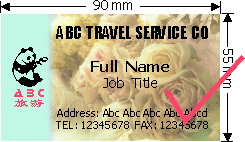 An Artwork Design having the same size with actual product is wrong too, i.e. you don't include the 3mm outer bleed. Due to human error, there might be a result in a white border after cutting.
To summarize, the cutting line refers to the product's actual size. Always give a 1-3mm bleed when designing your Artwork (to accommodate for the machine cutting error). In addition, provide us with a 5mm inner bleed within the editable area so that there is more breathing room for your Artwork Design.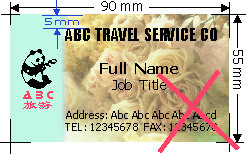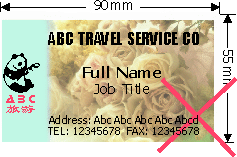 Printing colour modes
We support and accept these 3 colour modes:
(I) Grayscale, (II) RGB, (III) CMYK.
However, it is essential for the client to understand that the colour on the printout will always deviate from the colour you see on the screen and that RGB colour and CMYK colour have a few differences.  For RGB converted into CMYK, blue and green will have a tendency to end up in a slightly darker shade.
The material base colour will affect the colour of the printout:
For printing on materials that are not white, such as Silver Foil, Gold Foil, Kraft, Fluorescent sticker materials, or The Majestic Metallic Series Art Card materials. Colour may also deviate even with White Underlay Printing.
Limit on amount of black per printout:
It is a little difficult to print a large area of black in digital printing, therefore, any single printouts with black colour in more than 50% of the area would be charged as full-colour printing.
Sensitive content:
Kindly note that we do not print sensitive content that goes against the penal code, infringes privacy or contains strong references to sexual acts and violence.