Custom Labels / Sticker Printing in Singapore

Anti-Counterfeit

Stickers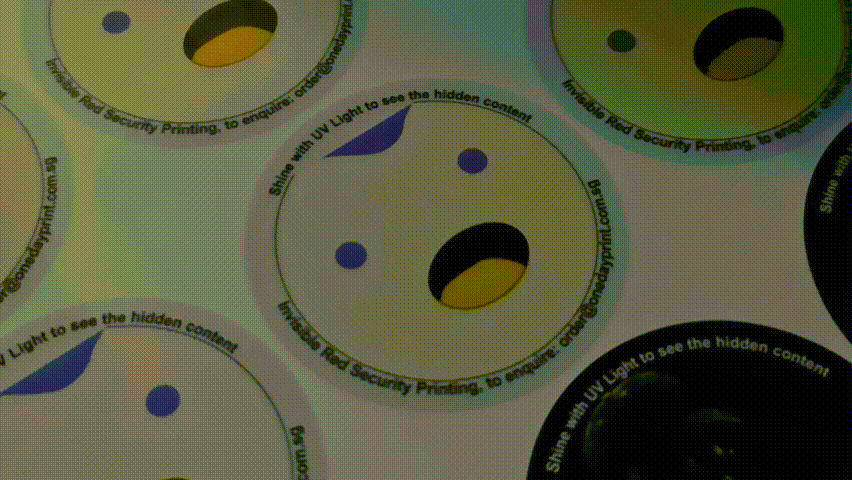 Protect Your Prints, With

Invisible Red Ink
Introduction to Invisible Red Ink Printing
Don't fall victim to counterfeit! Protect your prints from imitation! Counterfeits can cause financial losses by stealing away a portion of the profit margin from your legitimate business. It also violates your intellectual property which is a labour of your investments in researching, developing, and marketing your product. In the worst case, counterfeit may also lead to job loss which results in a loss of income tax revenue critical for nation-building. Criminals and organized crime groups may also use the profit made from counterfeit products to fund other criminal activities and cause harm to societies as a whole.
Consumers who use counterfeit of your product can also damage your brand's credibility, leaving you with the distress of dealing with the aftermath of counterfeiting. It's especially so if cosmetic and pharmaceutical products are in question. Consumers who unwittingly used such counterfeit products face health risks and may even result in fatality. Having the means to allow consumers to quickly authenticate their purchase would be a huge plus to their interest and your business!
The introduction of special invisible red ink toners in digital print has allowed us to provide an enhanced level of security for your prints! Visible only under UV light and nearly invisible under normal lighting, security markings can be printed on your printouts to provide a means of authentication. Applicable for entry-level security in vouchers, tickets, certificates, all-access passes, brand labels and more!
This special colour is impossible to replicate using ordinary home printers and industrial printers may not even produce the same result. Hence, deterring any attempts to replicate your printed vouchers, tickets, etc for illegal purposes!
Properties of Invisible Red Ink Printing
Nearly Invisible
Printouts are nearly invisible under normal lighting conditions, making it easy to hide security details. However, under ultraviolet light, the printout will show as a clear distinct red, revealing hidden details. (Note: Recommended to print on laminated material, on unlaminated material, Invisible Red printing can still be visible at a certain angle. As shown in the picture, left: unlaminated, right: laminated)
Secured
Printouts are difficult to replicate using ordinary home printers, deterring unauthorized reproduction of your printouts such as vouchers and coupons. We also take precautions to only allow authorized persons to print your secured prints.
Quick and Affordable
Digital printing is a much viable option for short-run and on-demand projects compared to offset printing. It's also more efficient for printing personalized details such as names, addresses, and serial numbers, and is much cost-effective with a quicker turnaround time.
Unique In The Market
Invisible ink printing service is unique in the market and it's very hard to find a shop that provides such service locally.
Below are some photos of our sticker printing. Here's an opportunity to showcase your products or unleash your creativity on our web pages! If you have printed stickers with us and wish to share photos of your products with our stickers on them, or photos of how you have used our stickers for your creative projects, please email us your original photos! Please also let us know your Social Media names (if any) so that we can credit you for the photos! 😇 We will be using the photos for the promotional purpose of our printing service (thank you so much!) Help us fill up this photo gallery! You can also show us how you are using our stickers on your products or creative projects by tagging us in your Facebook and Instagram photos! Follow us on Instagram, or Like us on Facebook!
Feeling excited with our Invisible Red Ink Printing? Drop us an email for a consultation with our printing experts.