Manuscript Requirements
Please read the specification below carefully to avoid unnecessary time delay in unsuitable manuscript.
First look at the basic e-Design Specifications, followed by specifications listed below
Triple-folded flyer (A4) manuscript design: 21cm X 9.9cm X 6pages. When combined will be a standard A4 (21cmX29.7cm).
For easy arrangement of draft, we do not support full-page printing on all 6pages (21cmX9.9cm) within the flyer. Please leave a 5mm bleed, thus the actual editable area is left to be (20cm X 8.9cm)
Please send us 6 pages of manuscript, and also include a picture/document detailing the arrangement of the manuscripts, identifying each page by the file name. (A simple way: fold a piece of paper into 3, and write the document name on each page. Then open it up and take a photo of it on both sides and send us, like the picture below.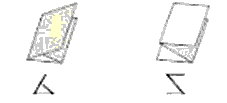 All images need to be above 300dpi, and small text would need to be 400 dpi minimum.
Our company reserve the right to reject printing any designs that infiltrate laws / with contents that are illegal / privacy invading / sexual / violence / unhealthy material.